the big crush - featuring handsome sandwich (rudelgin and ruffhauser), bird of prey and much much more @ Mission:Control & Area 33 la 2/12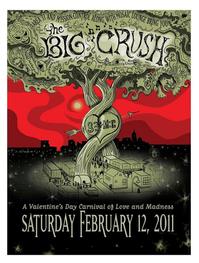 THIS EVENT IS SIMULTANEOUSLY BEING THROWN AT 2 LOCATIONS WITH 3 DANCE AREAS!
LADIES & GENTLEMEN! This Valentine's Day, we invite you to explore all the senses of your body as we take you on a magical journey into a carnival of love & madness! See, Touch, Smell, Listen, Dance, Pose, Taste, Savor and Embrace … THE BIG CRUSH!
This is a private event
DRESS: "Ladies & Gentlemen" Attire is strongly encouraged ... so dust off your formal burner threads and get some fancy in your life!
JUST ADDED: THE HUG DELI! Prepare to get CRUSHED!
the WHEEL OF SPANKS!
~ DANCE ~
AREA 33/ INSIDE STAGE
9-10:30 DJ Sendai
10:30-12 Smoked Pork (Pumpkin & Joplin)
12-1:30 Wolfie
1:30-3 E. Jag & Justin Paul
3-5 Oscure & Mark Zabala
5-7 Bass Ritual
AREA 33/PATIO STAGE
10-11:30 Weevil
11:30-1 pSilent
1-2:30 Darkmatter
2:30-4 DivaDanielle & Porter Tinsley
4-5:30 Gina & Ora
5:30-7 J-Labs
MISSION: CONTROL
9-10:30 Mr. Caparro
10:30-12:00 Terreyl & Mia
12:00-1:00 Vokab Kompany featuring the debut of Aerosdance. Plus .. Jen Shields & Susie Q!
1:00-3:00 Patrico & the ianator
3:00-4:30 BIRD OF PREY FEATURING KIT HOOPS
4:30-6:00 Handsome Sandwich (Rudelgin & Ruff Hauser)
6:00-8:00 Mr & Mrs. Smith Sunrise Breakfast Set (Lush Bunny & Dayhota)
8:00-10:00 Cha Chi
~ TASTE~
• Mr. Elixer will be hand-crafting exceptionally detailed libations infused with love and light, transcending your soul into limitlessness.
• Divine Organic Chocolates, Candies & Treats served by the Mosaic Lounge Candy Cigarette Girls
~ENGAGE~
• Sacred Love Opening for single and couples by: Diatomaceous Love
• Carnival Fairies & Rising Cupids
• Airbrushing by Dirty Looks
• The Hug Deli
~POSE ~
• "Ladies & Gentlemen" Photo Studio with Sir Steve Payne
• "The Be Mine" Old Fashioned Photo Booth
• 7 Minutes in Limo Heaven
~GAZE~
• The Naked Flame: Fire & Pole Performance (Michael Wood & Lala)
• DEBUTING the Mission: Control Aerial Troop …AEROSDANCE!
~TOUCH~
• Gigantic Spin the Bottle
• Grasshopper's Cling Wrap Kissing Booth
~INDULGE~
• Sunrise Bricoche- Stuffed French Toast Breakfast with Organic Vermont Maple Syrup
DRESS: "Ladies & Gentlemen" Attire is strongly encouraged (let's get Swanky people!)

~ The Big Crush is a Private Community-Based Event ~
** Membership Fees will Increase so buy your membership now! **
http://thebigcrush.eventbrite.com/
THIS PRIVATE EVENT IS A COLLABORATIVE EFFORT BY MISSION CONTROL, AREA 33 & THE MOSAIC LOUNGE WITH PRODUCTION ASSISTANCE FROM THE CRUZ COALITION!
Membership & Password are required for Entry
Tier 1: Early Membership $25 SOLD OUT
Tier 2: Regular Membership $35
Tier 3: Day-Of Membership $45
http://thebigcrush.eventbrite.com/