sound theories: ft ill.gates @ madrone studios in sf 3/10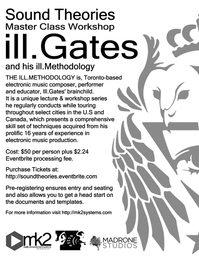 mk2 systems and Word of Mouth Production Services in conjunction with Madrone Studios present: Sound Theories :: Master Class Workshop
Sound Theories was created to bring people face to face with the producers, engineers, label owners and other professionals who are integrally involved in the digital music industry. Sound Theories makes available their thoughts on the many aspects of digital music production as well as the business behind it, thereby helping you to become more successful at your art. Our first in the series comes from a living legend who is changing the industry in big ways
Ill Gates and his Ill Methodology
THE ILL.METHODOLOGY is, Toronto-based electronic music composer, performer and educator, Ill.Gates' brainchild. It is a unique lecture & workshop series he regularly conducts while touring throughout select cities in the U.S and Canada, which presents a comprehensive skill set of techniques acquired from his prolific 16 years of experience in electronic music production.
This extraordinary workshop is targeted to increase your productivity and efficiency in writing finished compositions in Ableton Live and providing you with all the tools you would need to streamline your production and become succesful doing so.
WORKSHOP LAYOUT:
1. Learning to Live Every Day as a Musician
2. Concepts of Songwriting
3. Workflow
4. Sound Design
5. Library and Organization
6. Tips, Tricks, Techniques
7. Promotion
8. DJing with Ableton Live
9. Q+A period
On top of all this, he'll give you a pile of his DJ Templates, racks, custom effects, remix parts and course notes.
ADMISSION INCLUDES:
• Printout of the Ill.Gates Guide to Producing (with recommended reading + viewing)
• Subscription to the Ill.Gates Ableton Rack Collection
• Access to the world famous DJ Templates (a $50 value here alone)
• Misc Documents detailing workflow, 128s, etc…
• Remix Parts for the now-classic Ill.Gates album Autopirate
This 4 hour workshop has been getting incredibly positive reviews and feedback from producers in North America wherever it's touched down.
Cost: $50 per person plus $2.24 Eventbrite processing fee.
Too steep? If you're strapped or just thrifty, you can get in FREE by pre-registering two people who pay the full price.
(APPLIES TO PRE-PURCHASES ONLY. THIRD (free) PERSON MUST ARRIVE AT THE SAME TIME AS TICKET HOLDERS. NO EXCEPTIONS)
Purchase pre-sale tickets using this link: http://soundtheories.eventbrite.com
Or by using the window at the bottom of this page
We also have a special discount promo code available for listeners of the Memekast, email: spektrum@mk2systems.com for the code.
Pre-registering ensures entry/seating and also allows you to get a head start on the documents and templates.

For more information about Ill.Gates go to: http://www.facebook.com/illGatesMusic
For more information about WOMPS, check out: http://www.wompservices.com
For more information about Memekast, please visit: http://www.memekast.com

For more information about Madrone Studios visit, http://www.madronestudios.com
Madrone Studios
1417 15th st
San Francisco, CA, 94103