Friday, April 3 - Daly City Records presents Chris de Luca vs Phon.o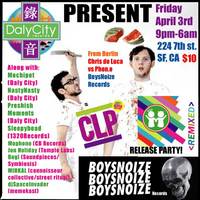 This Friday, April 3: Daly City Records celebrates the release of Mochipet's Microphonepet Remixed with Berlin's CLP (Chris de Luca vs Phon.o — Ex-Funkstörung, K7, Shitkatapult, Boysnoize Records), slinging an "unconventional combination of intergalactic hip hop, ghetto beats, sexy booty IDM and dirty techno."
Join Memekast resident djSpaceInvader and recent guests Mochipet and Sleepyhead, along with a whole bunch of others (full lineup after the jump), in welcoming CLP back to the Bay.
Daly City Records Presents:
MICPET REMIXED RELEASE PARTY!
Straight from Berlin
CLP (Boyz Noize Records)
Chris de Luca vs Phon.o
Along with:
Mochipet (Daly City)
NastyNasty (Daly City)
Preshish Moments (Daly City)
Sleepyhead (1320Records)
Mophono (CB Records)
Jon Holiday (Temple Labs)
Bogl (Soundpieces/Symbiosis)
MIHKAL (connoisseur collective/street ritual)
djSpaceInvader (memekast)
When?
FRIDAY APRIL 3RD
9pm-6am
$10
Where?
224 7th st.
San Francisco, CA 94103 (Cross St. Howard)