fractalize festival: 7/6 @ belden town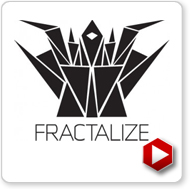 Join Memekast, MalLabel and Hellefante SF for an epic weekend on the river at Fractalize Festival!
With an all-star lineup of some of the most forward thinking musicians in the business today. Fractalize prides itself on representing multiple styles of electronic music and hip-hop. This is definitely a festival that sets itself apart from the rest and promises not to be just another annual regurgitation of the same old lineup.
Hosted by LOS RAKAS
With DJ TOURE of HIEROGLYPHICS, AN-TEN-NAE, MUX MOOL, STAGGA, ROCKER T & JAH WARRIOR SHELTER, GRENIER (DJG), NUMP, JANTSEN, JEF STOTT, MONKY, HELLFIRE MACHINA, BIL BLESS, DJUNYA, THE WIDDLER, KITTY D, K THEORY (LIVE), LOL BOYS, 5KIN&BONE5, REILLY STEEL, GUTTSTAR, CARRIER, BLACKHEART, BOGL, ULTRAVIOLET, SKULLTRANE, LOTUS DROPS, WOLFBITCH, SMASHELTOOTH & THE PIRATE, TASO, FREE CRUSH, PORKCHOP, SMASH & GRAB, DOPELABS, NAPSTY, SAM SUPA, RITUAL DJ'S, M.O.M DJ'S, SLAYERS CLUB, FOOTWERKS, OH BLIMEY, EL DIABLO, KIAL, HYPHA, RASTATRONICS, CAIDANCE, SNAKECHILD, OSTAC, SKRIPTAH, TELEPORT, QUESTION and MYCHO

Pre-sale tickets can be purchased by following this link: Fractalize Festival Tickets
2 Stages of PK Sound by the Wobble Factory
Happy Hour Stage Open 4:30-7:30pm
Custom Booth Designs by Rage Stage Design
Educational Music Seminars by Pyramind & IDC
Costume Contest by Dubstep.FM (Winner Gets 80g IPod Classic)
Hoop Performance by Tiana Zoumer
Live Artists & Gallery Art Space
Organic, Vegan, and Vegetarian Food by Awesome Sauce Kitchen
Party Bus Shuttle Service by North American Touring Company
Performances by Mousai
Photography by ANiMALDAZE
Tea Service by Lotus Drops
Vending Area
Video by Pheosia Films
Visuals by FLOOD

Pre-sale tickets can be purchased by following this link: Fractalize Festival Tickets

18+
No Pets or Fire or ATM on property
Leave No Trace Event
Located in a National Forest