digital rust - forming formants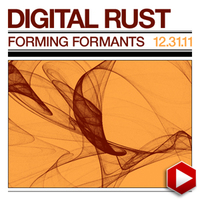 For our second free giveaway for 2011/2012. We bring you "Forming Formants," a slammin' tune from Digital Rust. A little something funky to ring in the New Year. We featured him last March on Memekast mk053. Which was in support of his then, new "Loophole EP," available on Addictech.com. When Loophole dropped it created quite a buzz in Mid Tempo and Glitch Hop circles. His music has been compared to Opiuo, Love and Light and even Tipper to name a few. Not to mention staying at #7 in the Addictech Top 10 since March.
When we asked him for a freebie, little did we know that he would give us one of the most asked for tunes, from both his Memekast and his live sets. Forming Formants starts out with a bang and doesn't disappoint the whole way through. It's more or less, a relentless barrage of choppy vocal synth bits and moving, sludgy baselines. Combine that, with chunky hard hitting beats and the glassy 303 leads occasionally making their appearance at the forefront of the mix. It has just enough pretty elements to provide a noticeable amount of contrast, for such a heavy danceable song.
You can expect a new EP from Digital Rust in April, 2012. Until then, this will just have to do.
Just click the "Buy" button to Download the track.